Custom Pet Portraits by Geraldine Whalley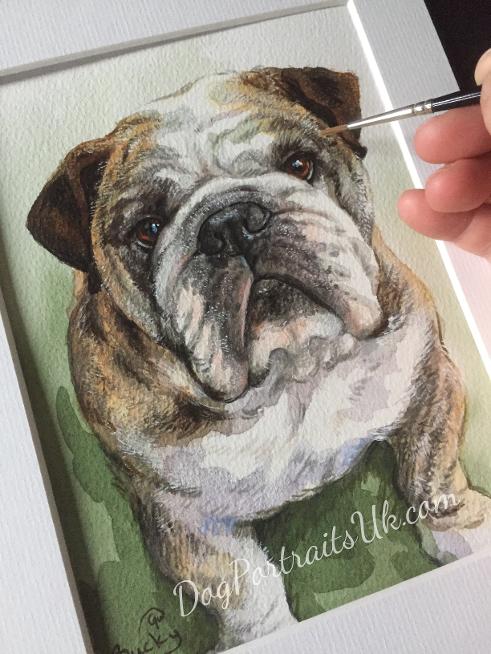 Introduction
Welcome to Dog Portraits UK!
My name is Geraldine Whalley and since 2012 I have been specialising in creating custom dog portraits from photos sent to me by the people who love them.
My aim is to create original, characterful and unique hand painted pet portraits. Keepsakes that will last, not only for now, but for generations to treasure.
Take a look through the galleries to see more samples of work and if you have any questions at all, please do not hesitate to contact me.
I can paint in oil, vitreous enamel, watercolour, gouache, ink and wash, coloured pencil and many combinations of the same.
Email :geraldinewhalley@gmail.com
Click the links in the menu at the top to view the galleries.
Click this link to get to the Etsy shop
Some Recent Testimonials
Alice Bowring
Geraldine was an absolute pleasure to purchase from, and her artistry is magnificent. I couldn't be more pleased with the outcome!
Dan Townend
I cannot recommend Geraldine highly enough. I had a portrait of our cockapoo Scooby commissioned for my wife's birthday. Geraldine's painting caught his spirit perfectly... it was so good it made my wife cry! If you have a beloved pet, get a portrait. you will love it.
Jess
Words cannot describe how over the moon I am with the custom portrait that Geraldine did. I commissioned a portrait for two friends who recently said goodbye to their pup and Geraldine captured the image and the spirit of Jez and did so in beautiful detail. My friends received the portrait just today and they were so touched. Aside from the actual artwork, Geraldine was easy to communicate with, helpful, and so friendly. She rushed the portrait for me and sent it safely and securely. I would highly recommend her!
Jade Godwin
Love my custom order! Arrived quickly and well packaged. Words can't describe how beautiful Geraldine's illustrations are, beyond pleased with mine.....perfect. Thank you again Geraldine! X
Tracy Connor
Bought my parents a portrait of our beautiful boy after he passed away. They were blown away with how incredible it is - my mum even said it made her feel like he was back with us. Great communication too! Cannot recommend highly enough.
These are just a few of the reviews from my Etsy shop, for more click on the link to the Etsy shop above.