Custom Pet Portraits by Geraldine Whalley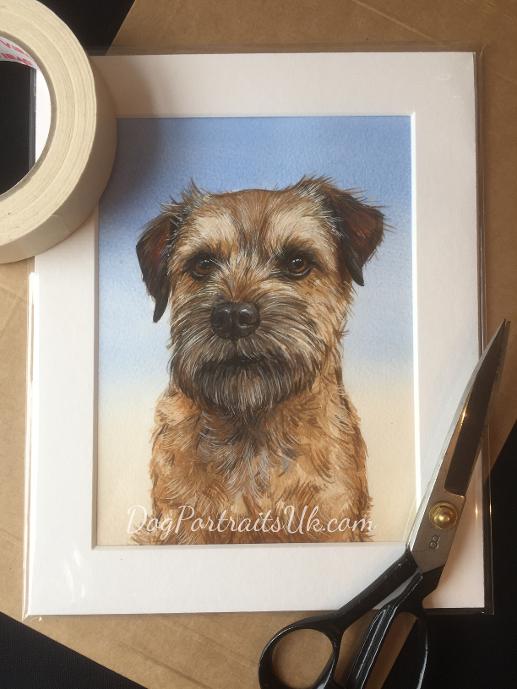 Introduction
Welcome to Dog Portraits UK!
My name is Geraldine Whalley and since 2012 I have been specialising in creating custom dog portraits from your own photos.
My aim is to create original, characterful and unique hand painted pet portraits. Keepsakes that will last for generations to treasure.
Take a look through the galleries to see more samples of work and if you have any questions at all, please do not hesitate to contact me.
I paint in oil, watercolour, gouache, ink, coloured pencil and vitreous enamel.
Email :geraldinewhalley@gmail.com
Click the links in the menu at the top to view the galleries.
Or, visit the Etsy shop by clicking on this link...DogPortraitsUk.etsy.com
Some Recent Testimonials From my Etsy Shop...
(If you've commissioned a portrait please consider leaving a review on my Google business page... Click here to open a new window... ).
Freya
'I brought a custom painting of my elderly Labrador Arthur and it was done beautifully. Geraldine is a very warm and empathic person who knows dogs and their character. Who intuitively can recognise the qualities of your companion from a photograph She is an amazing artist and I cannot recommend her enough'!
Cris Pearson
'Geraldine was absolutely amazing! So sweet and helpful throughout the whole process and helped us decide on the best photos to use. The finished product is beautiful and exceeded all my expectations. It is the perfect way to celebrate the life of our family dog Daisy. I can't recommend Geraldine highly enough'! 😊🐶
Erika Champagne
'Geraldine was totally wonderful to work with. She created an absolutely beautiful portrait of our beloved dog. She captured him perfectly. We couldn't be happier with our entire experience working with her. She is a kind person and truly gifted artist'.
Ella Boyd
'I had this commissioned as a birthday present for my husband. He's utterly blown away with the picture, the drawing captures our dog perfectly, it's captured his character and the likeness is just spot on. Such a fantastic communication through the order and production process. Cannot recommend Geraldine enough'.
Lea
'Such a beautiful portrait made by a very polite and friendly person! Looks exactly like my Kai and is framed and on display. Everyone who walks into my home comments on how amazing it is
I couldn't be more happy with it'.
Vicky Cockeram
'The painting of our much-missed Ruby is so life like and detailed; I really can't express how pleased I am with it. This will make a wonderful and much appreciated Christmas present.
Geraldine is super lovely, helpful and talented, and I'm sure that I'll be commissioning another piece from her in future'!